Creating Trust in a Zero Trust World
Mounting enterprise data security and cybersecurity risks, combined with insufficient endpoint protection and other information security practices, are the underlying reasons behind dramatic rises in breaches and records exposures. Read Security: Creating Trust in a Zero Trust World, by OpenText CEO and CTO Mark J. Barrenechea, to learn about a cybersecurity model based on the idea of "never trust, always verify" and why today's threats cannot be fought with yesterday's strategies.
Learn about:
A Zero Trust approach to security
Obstacles to implementing Zero Trust
Proactive and reactive security technologies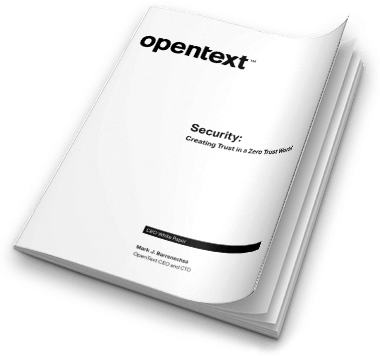 Stay tuned for the first and subsequent installments of this white paper that will be sent to you over the course of the next few days.