Fax isn't just surviving, it's thriving
Naysayers beware! Fax is far from dead. In a recent IDC survey of decision makers across financial services, healthcare, government and manufacturing, 82% of respondents saw fax usage increase or remain the same over the past year.1 In fact, a quarter of respondents reported fax growth rates between 50-74%.2
But the growth of fax also places increased demands on infrastructure and security – not to mention the internal resources that support it. Mergers, consolidations and back-end integrations only add to the challenge. How can you align the right resources and fax technology to your changing business needs?
Future-proof fax with digital fax as a managed service
Free up your internal resources and cut costs by up to 30%.3 Digital fax managed services provides all the people, processes and technologies you need to implement, manage and monitor your fax implementation.
Read the white paper, Sharpening your competitive advantage with digital fax managed services to learn:
The top 8 benefits of digital fax technology
5 essential functions and advantages of digital managed services
How to evaluate a managed services provider and build a case for managed services
The remarkable rates of fax volume increases across industries
The mission-critical role that fax plays in document-centric business processes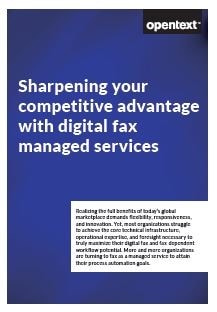 Get back to core business by letting the right people, processes and technology guide your fax implementation and management. Read the white paper today.
2Ibid.
3Based on OpenText analyses of customers' digital fax implementations.