Is remote access to UNIX, Linux and Windows hindering your team collaboration?
The ability to access mission critical UNIX®, Linux® and Windows® solutions for graphically demanding software can prevent your team from collaborating successfully. In today's organizations, team members are often geographically dispersed, making high-quality remote access critical to productivity.
But, productivity is only one of the concerns. New challenges are coming your way all the time. Many teams are tasked with reducing costs, increasing data security and increasing collaboration with a high-speed solution all at once.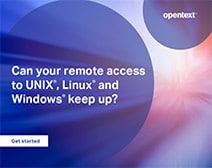 Read Can your remote access to UNIX®, Linux® and Windows® keep up? to explore the rising challenges with remote access and the right solution to address them. Download the eBook today.