Welcome to the Evolution of BPM
The days of rigid, manual processes and unwieldy custom suites that take months to develop are over, and the future of Business Process Management is now. Over the last 12 months the BPM market has been evolving faster than any other time in the past decade because process efficiency and the ability to bring value to the organization faster has never been more important.
Click on the titles to view the webinars:
Watch our webinar series, The Evolution of BPM where we are giving you three, thirty minutes sessions on the hottest new trends in BPM.
Discover the Future of BPM
Learn more about the vision behind OpenText BPM, and our dedication to utilizing our larger Enterprise Information Management portfolio to help organizations face the challenges of the digital age with a new style of engaging applications. We also discuss the importance of using BPM to:
- Enhance your customer service
- Shorten time to value
- Reduce business and IT costs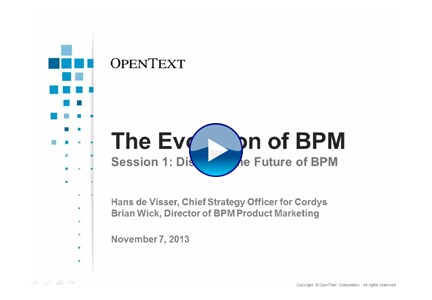 Empower Knowledge Workers with Dynamic Case Management
Discover how to get a grip on unstructured and structured processes with Dynamic Case Management. Learn how milestones in case processes can be used to focus on business outcomes and goals, and can empower employees to contribute to the best possible customer experience with:
- The smart combination of automation of routine tasks
- Management of processes that require insight
- Expertise and judgment from knowledge workers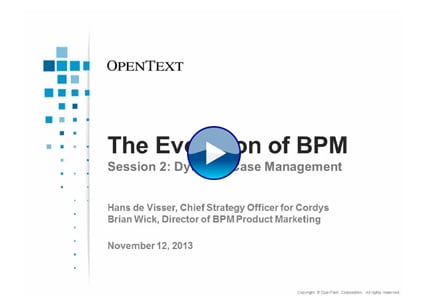 Get Better Business Insight with BPM
Join our experts while they discuss how process intelligence enables individuals, teams, and businesses to organize work in such a way that ensure their process goals are achieved. Learn how process and business data can be used for:
- Real-time dashboards and event handling
- Historic context for predictive analytics
- Enhanced and modified processes enabling continuous process improvement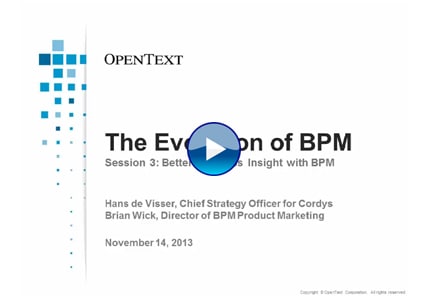 Want to learn more about our BPM solutions? Fill out the form on the right and download your copy of the OpenText Cordys BPM white paper and discover how BPM can help you improve your business operations today.