Zero-harm should be more than just a corporate philosophy. It must be an integral part of your business processes.
Effective information management can improve both workforce safety and efficiency. With immediate access to trusted asset information, organizations can avoid injuries, fatalities, and damaging incidents.
In today's labor force, where skills shortages are prevalent and many experienced workers are changing jobs or retiring, knowledge management is also critical. Companies need to capture the tacit knowledge these workers have to ensure asset-specific knowledge isn't lost once they leave.
OpenText's Asset Information Management solutions can help, by:
Consolidating best practices, standard procedures, structured and unstructured asset information, and training materials in one centralized location
Embedding best practices and standard procedures in the context of work orders, projects, and asset integrity processes
Ensuring an accurate, trustworthy single source of truth for all your asset information and procedures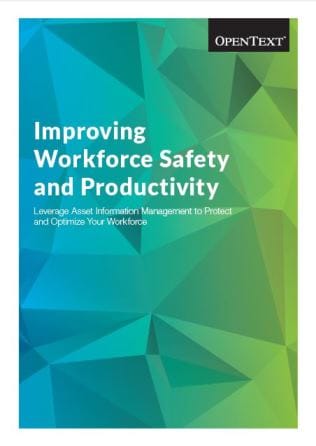 Download the white paper, Improving Workforce Safety and Productivity, to learn techniques and best practices to protect and optimize your workforce with effective knowledge and information management.