In asset-heavy industries, building reliable links between information assets—such as business processes and standard operating procedures—and the physical assets they help govern can open up a new world of profits as well as help prevent tragedies in the workplace.
Without comprehensive information governance or the proper application of the International Standard for Asset Management ISO 55000, organizations can be at risk of serious legal liability, even in jurisdictions where it is not enshrined in law.
Adopting ISO 55000 promotes good business practices and operational efficiency by connecting physical asset management and information management. Benefits include:
Improved planning, especially for capital expenditure
Consistent, prioritized and auditable risk management
Greater workforce engagement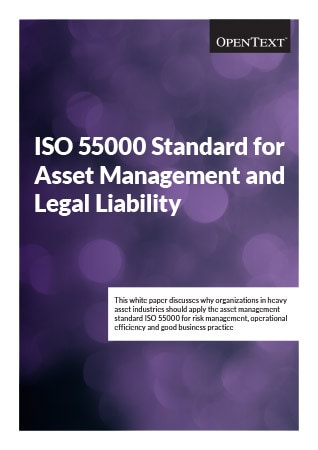 OpenText Asset Information Management helps organizations accelerate the adoption of ISO 55000 standards. Learn more in the whitepaper: Understanding the Relationship Between the ISO 55000 Standard for Asset Management and Legal Liability.