Go digital with Enterprise Information Management (EIM) in the cloud
Information is currency in today's digital world. Enterprise Information Management (EIM) cloud computing is the platform for digital transformation in the enterprise, enabling you to quickly and securely access and share information. With EIM cloud computing, organizations can maximize the value of data, provide cloud security and automate business processes from customer engagement to business analytics.
Take a digital leap forward with EIM in the cloud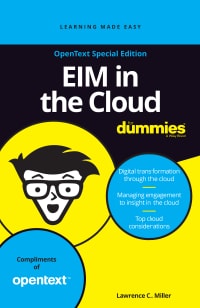 Discover how to maximize the value of your data. Get EIM in the Cloud For Dummies, published by Wiley, to learn:
How the cloud enables digital disruption
How to optimize business processes in the digital world
Why digital discovery matters
How to enable advanced analytics and cloud-based digital insight
The 10 key considerations for EIM in the cloud
Get the eBook now.