A secure, flexible ECM solution for managing your work product – anytime, anywhere
In today's digital world, organizations are faced with growing volumes of information that need to be managed and secured. But, that information also needs to be easily accessible for day-to-day operations. Your professionals need fast, powerful ways to locate work product, share and collaborate, and to quickly respond to customers.
OpenText™ eDOCS is a proven ECM solution for managing work product that "works the way you do". It balances traditional requirements for security, privacy, and regulatory compliance with the needs of modern professionals to easily access important files whether in the office or on the go.
eDOCS works the way you do
We've recently added eDOCS InfoCenter to our arsenal of interfaces, giving professionals more choice and flexibility in how they work. InfoCenter is a modern 'tiled' interface that is easy to personalize and is available across devices – from desktop to tablet to phone.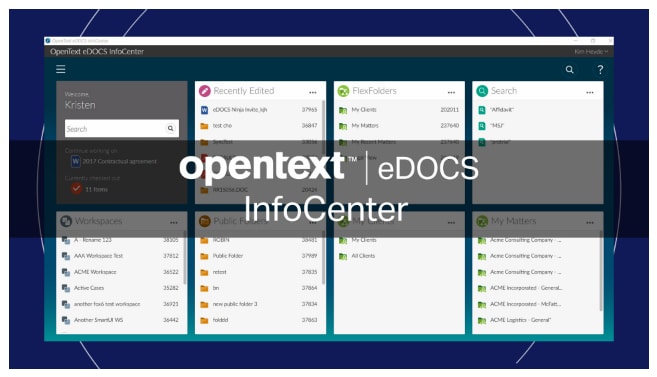 Watch this video to see how easy it is to manage information with eDOCS InfoCenter
The leader in ECM
When you choose eDOCS, you choose a solution backed by the resources and commitment of OpenText – the clear market leader in ECM and content services. Our experts are here to support you and help you get the most value from your investment.