Demystifying Data Science
Data science, artificial intelligence (AI) and advanced analytics transform business processes
Artificial intelligence (AI) will generate $2.9 trillion USD in business value and recover 6.2 billion hours of worker productivity by 2021.1
Most organizations are challenged to turn growing volumes of data into useful information and valuable insights. Data analytics and AI unlock the power of data and provide a competitive edge to help gain valuable knowledge which would otherwise be lost from masses of information.
Read Demystifying Data Science to learn key concepts, adoption readiness assessment structures, advanced analytical techniques and frameworks for defining high value and impactful AI use-cases. The white paper also provides: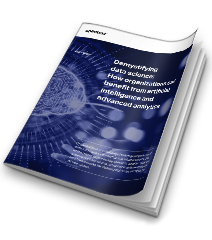 Key definitions of AI, machine learning and related concepts
Common machine-learning techniques simplified and explained, such as supervised learning, natural language processing and classification
Requirements and tips for success when adopting and implementing AI
Steps to building meaningful, high value use-cases that demonstrate true business value
Businesses run on data and it is estimated more than 2.5 quintillion bytes of data are created each day.2 Demystifying Data Science shows how advanced analytics and AI transform data into timely, actionable insights.
Get the white paper
Demystifying Data Science
1 Gartner, Gartner Says AI Augmentation Will Create $2.9 Trillion of Business Value in 2021, August 5, 2019.
2 OpenText CEO Blog, An Information-infused Future, 2018