Maximize operational efficiency with AI, analytics and predictive maintenance
More than 57 percent of operations companies only fix assets as they fail – or don't do anything beyond following regular maintenance schedules.1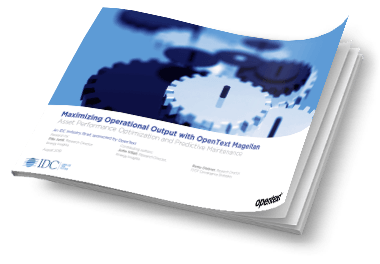 This IDC Industry Brief, discusses why traditional maintenance approaches are wasteful and how asset performance management (APM) lowers maintenance costs, reduces risk of equipment failure, and increases asset availability.
Get the IDC industry brief
APM systems collect real-time data, predict equipment or asset performance and potential failure. By analyzing that information with artificial intelligence (AI) and advanced IoT analytics, an APM system supports an asset management strategy that can potentially:
Increase asset availability by up to 20 percent,
Reduce maintenance labor costs by up to 20 percent, and,
Increase mechanical efficiencies by up to 10 percent.2
Get the Industry Brief and learn more.
1 IDC, Maximizing Operational Output with OpenText Magellan, August 2019
2 Ibid