Extract data and uncover insight with intelligent capture software
Read the simple eBook, Transform documents into actionable business insight, to learn: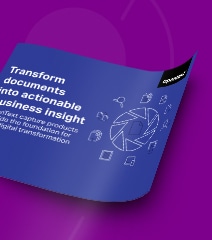 The benefits and ROI of the four most common types of intelligent capture, along with innovative use cases of each capture type.
The one thing that needs to be captured from the beginning to start an intelligent capture initiative off right.
How to find the right intelligent capture solution for your business needs.
What is the biggest barrier to digital transformation? Information overload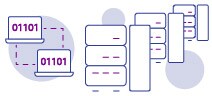 Digital data will surge to a
trillion
gigabytes by 2025.1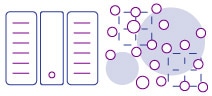 80%
of enterprise data today is unstructured.2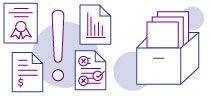 40%
surveyed said "most of our important stuff is referenced and filed as paper."3
Conquer information overload with intelligent capture
Today's information comes from a myriad of directions—paper and electronic documents, scanned images, emails, faxes, mobile and more. And it is all valuable. IDC projects that organizations that analyze all relevant data and deliver actionable information will achieve an extra $430 billion in productivity gains over their less analytically oriented peers by 2020.4
Deriving value from information means enterprises need to extract data from numerous complex and disparate sources − the volume and complexity of which requires organization, classification and document conversion.
Dash to digital insights, without starting over
Intelligent capture software automates the scanning and capturing of critical paper and electronic documents—such as invoices, contracts, claims, receipts and shipment documents—replacing manual input and processing. The captured content is then stored in an organized manner complete with metadata and classification, so it is ready for use in business applications. The capture can even be done remotely in real time across multiple locations via mobile apps.
Once all that information is organized, it is analyzed and automatically processed using AI and analytics platforms. This ensures that information is available, accurate and timely in key back-end systems, such as ECM, ERP and invoice management. In turn, this optimizes key operational processes in departments such as human resources and finance.
A survey of nearly 30,000 CFOs found that capturing information from invoices alone can increase productivity per employee by more than four times.5 Other benefits include cost reduction and improved information management.
Read the eBook and start realizing the benefits of intelligent capture today.
Agility improves operational efficiency and customer satisfaction
1 IDC white paper, sponsored by Seagate, Data Age 20255, April 2017.
2 Forbes, "The Big Unstructured Data Problem" 2017.
3 OpenText, "Transform documents into actionable business insight," 2018.
4 Deloitte Insights, "Dark analytics: Illuminating opportunities hidden within unstructured data," 2017.
5 OpenText, "Transform documents into actionable business insight," 2018.