Gain greater insight and value from content with AI and ECM
Make intelligent automation smarter—combine artificial intelligence (AI) with content services.
Read the white paper, The Growth of Artificial Intelligence in Content Services, to learn: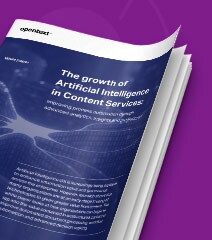 The top five benefits of combining AI with ECM and content services to improve business process management.
How AI can add context and sentiment value to metadata that is captured or archived in disparate sources.
Methods for improving communication and collaboration with unsupervised and supervised machine learning.
Approaches to embedding AI platforms/machine learning into business applications for workflow process automation and faster decision making.
Groundbreaking insights are found in unstructured content from email and web forms to purchase orders and social media. But, with 2.5 quintillion bytes of data1 created every day, accessing those insights is difficult and time consuming.
79%
of organizations say
the ability to turn unstructured
information into structured data is key.2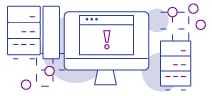 87%
of organizations find
this task challenging.3
How can organizations turn massive volumes of data and content into insights, while also streamlining all aspects of information management?
Combine AI and content services for process and governance automation
According to Forrester, document processing, workflow automation and advanced decision-making are ripe for the application of AI.4 Streamlining these processes with AI helps organizations improve efficiency and employee productivity and personalize the customer experience.
By combining AI with content management, organizations can extract meaningful data insights from siloed content, automatically route it to the right applications and act on the best next steps. They can also improve data governance and compliance processes, whether by tagging and categorizing content to start the retention workflow or by proactively managing the archiving or disposal of business content. The results?
Reduced costs and improved data quality
Faster business processes
Fewer compliance risks
Get ahead of the competition by integrating AI with ECM in day-to-day operations today. Get the free white paper now.
1 Forbes, "How Much Data Do We Create Every Day? The Mind-Blowing Stats Everyone Should Read?" 2018.
2 AIIM, Leveraging Deep Learning and Machine Learning Capabilities, 2018.
3 Ibid.
4 Forrester, Predictions 2019: Artificial Intelligence, November 6, 2018.