Enterprise World
Toronto
July 9-11, 2019
Enterprise World is coming to Toronto
Introducing OpenText Enterprise World from July 9 -11, 2019. A three-day conference to help your business become an Intelligent and Connected Enterprise.
Enterprise World will feature
Interactive experiences

Technical demos, networking hubs and hands-on sessions

Enterprise Expo

Showcasing the latest innovations from OpenText and its partners

200+ breakout sessions

Includes technical deep dives, roadmap and product updates and customer success stories

Industry Forums

Focused on Financial Services, Public Sector, Energy, Manufacturing and Life Sciences

Keynote sessions

Hear from OpenText CEO & CTO, Mark J. Barrenechea; OpenText EVP, Engineering, Muhi Majzoub and industry experts

Innovation Lab

Visit the test track for OpenText solutions to influence future product development, evaluate innovative new designs and collaborate with OpenText user experience designers and researchers.

Hands-On Lab

Check out the latest product enhancements or walk through a scenario-based demo. Choose a session, open the workbook and the rest is up to you!

Developer Lab

Join our engineers as they demonstrate how to easily build solutions with OpenText. You don't have to be a developer to visit these fun, interactive sessions in the Developer Lab!
Why attend
Get prepared

Hear insightful talks from industry leaders on the latest trends

Network with peers

Connect with OpenText customers, partners and experts

Maximize investments

Learn how to maximize the value of OpenText products

See products in action

Visit the Expo for live product demos

Learn from other customers

Hear first-hand how other companies have used OpenText products to enable their digital transformation journey

Get in-depth training

Learn tips and tricks directly from the experts and take deep dives into your applications
---
Infographic
Learn more about Enterprise World.
View the infographic
View the infographic
View the infographic
Let us help make your case
We've put together a letter to help show the powers that be the business impact of Enterprise World.
Download the letter
Download the letter
Agenda
Enterprise World is designed to help customers understand how to harness the power of information through extreme automation and insight to become an Intelligent and Connected Enterprise. Make sure to bookmark this page as it will continue to be updated as the agenda is finalized.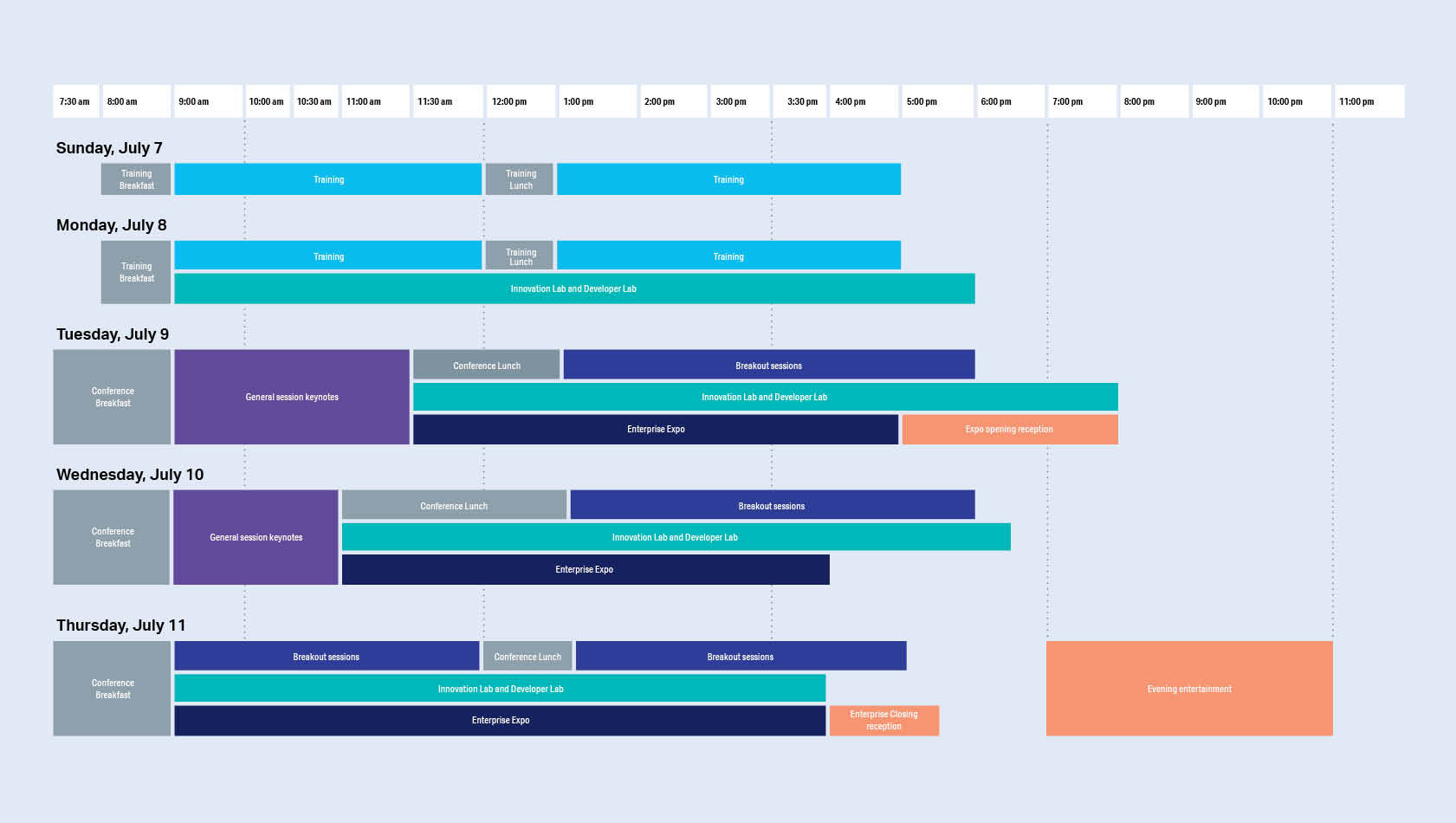 Training
Enterprise World is the best opportunity to learn OpenText best practices on usage, implementation and administration. Learn to maximize the value of your OpenText solutions in engaging, informative and interactive training courses and workshops.
Pre-conference training will take place July 7-8.
Please note: Training course fees are not included in a conference registration.
Keynote speakers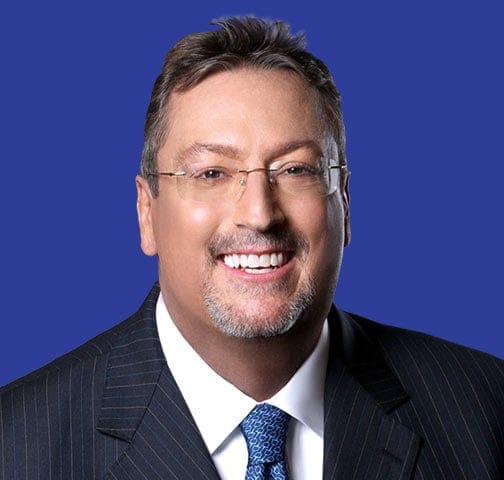 Mark J. Barrenechea

OpenText CEO & CTO
Mark J. Barrenechea joined OpenText as President and Chief Executive Officer in January 2012, and also serves as a member of the Board. In January 2016, Mark took on the role of Chief Technology Officer.
As CEO of Canada's largest software company, Mark oversees the strategic direction of the organization and upholds the company's position at the forefront of the industry. Under his direction, the Company has grown both organically and through strategic acquisitions, into a $2.8 billion technology company.
Mark's unwavering commitment to innovation and results, combined with a dedication to customers' needs, led him to successfully realign the company's products, transforming OpenText into an Enterprise Information Management leader.
A prominent thought leader, Mark's extensive experience in information technology affords him a unique insight into the technological changes ushering in the fourth industrial revolution. In his latest book, The Intelligent and Connected Enterprise, Mark identifies how to securely transform information into an asset that can be used to reimagine business for unlimited potential in an ever-changing digital world.
Before joining OpenText, Mark was President and Chief Executive Officer of Silicon Graphics International Corporation (SGI), where he also served as a member of the Board. A pioneer of Technical Computing, Mark defined and distinguished the new market from Business Computing and established SGI as one of its leaders.
During his time at SGI, he led the company's strategy and execution. His role included transformative acquisition of assets as well as penetrating diverse new markets and geographic regions.
Prior to SGI, Mark served as Executive Vice President and CTO for CA, Inc. (CA), (formerly Computer Associates International, Inc.) and, as a member of the executive management team. Mark was also Senior Vice President of Applications Development at Oracle Corporation, responsible for managing a multi-thousand-member global team. Additionally, he was a member of the executive management team.
Mark has also served in a number of other positions including, Vice President of Development at Scopus, a software applications company, and Vice President of Development at Tesseract, where he was responsible for reshaping the company's line of CRM and human capital management software.
Mark has been the recipient of many accolades over the years. In 2011, the San Francisco Business Times named him the 2011 Best Large Company CEO. Most recently, he was named the 2015 Results-Oriented CEO of the year by the CEO World Awards. The prestigious award recognizes Mark's leadership and innovation in attaining results for the company and its customers.
Mark has authored a number of other books including The Golden Age of Innovation, On Digital, Digital: Disrupt or Die, eGovernment or Out of Government, Enterprise Information Management: The Next Generation of Enterprise Software, Software Rules and e-Business or out of Business. Mark holds a Bachelor of Science degree in Computer Science from Saint Michael's College. He currently serves as a member of the Board and Audit Committee of Dick's Sporting Goods and as a member of the Board of Avery Dennison.
For more industry thoughts from Mark, you can subscribe to his blog, follow him on Twitter or connect on LinkedIn.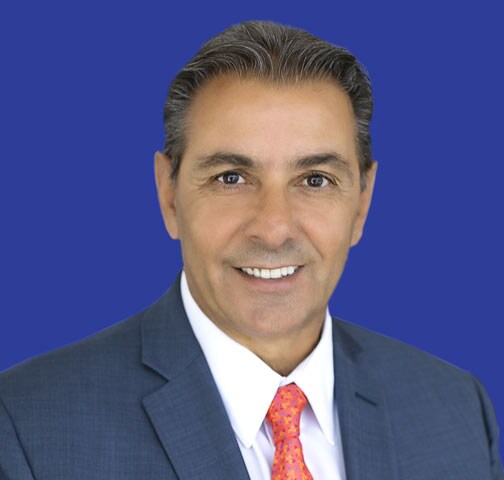 Muhi Majzoub

OpenText Executive Vice President, Engineering
Muhi S. Majzoub is the Executive Vice President of Engineering for OpenText. Joining the company in 2012, Muhi has held various senior executive positions. He currently leads the development organization to define the vision and strategy for OpenText products and their transition to the cloud.
Prior to OpenText, Muhi was Chief of Products for NorthgateArinso, where he was responsible for defining the company's product vision, strategy and the development life cycle. He focused on consolidating the late software portfolio and developing new product capabilities for both cloud and on-premises solutions.
Muhi has also held the position of Senior Vice President of Product Development for CA, Inc., where he was responsible for the development of the common technology platform and components and integration strategy.
Prior to CA, Muhi was Vice President of Product Development at Oracle Corporation. During his tenure at Oracle, he was responsible for the delivery of the Sales Automation Suite, including Sales Online TeleSales, Sales Compensation, Sales Intelligence and many other Internet technology projects, such as Oracle Store, Oracle.com and the MetaLink TAR system.
Muhi attended San Francisco State University.
For more on Muhi's thoughts and industry expertise, you can follow him on Twitter.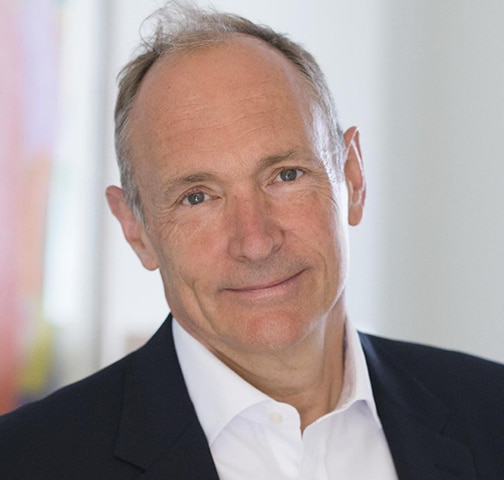 Sir Tim Berners-Lee

Inventor of the Web and CTO, Inrupt, Inc.
Sir Tim Berners-Lee invented the World Wide Web in 1989 while working as a software engineer at CERN, the large particle physics laboratory near Geneva, Switzerland. With many scientists participating in experiments at CERN and returning to their laboratories around the world, these scientists were eager to exchange data and results but had difficulties doing so. Sir Tim understood this need, and understood the unrealized potential of millions of computers connected together through the Internet.
Sir Tim documented what was to become the World Wide Web with the submission of a proposal specifying a set of technologies that would make the Internet truly accessible and useful to people. Despite initial setbacks and with perseverance, by October of 1990, he had specified the three fundamental technologies that remain the foundation of today's Web (and which you may have seen appear on parts of your Web browser): HTML, URL, and HTTP.
He also wrote the first Web page editor/browser ("WorldWideWeb") and the first Web server ("httpd"). By the end of 1990, the first Web page was served. By 1991, people outside of CERN joined the new Web community, and in April 1993, CERN announced that the World Wide Web technology would be available for anyone to use on a royalty-free basis.
Since that time, the Web has changed the world, arguably becoming the most powerful communication medium the world has ever known. Whereas only roughly one-third of the people on the planet are currently using the Web (and the Web Foundation aims to accelerate this growth substantially), the Web has fundamentally altered the way we teach and learn, buy and sell, inform and are informed, agree and disagree, share and collaborate, meet and love, and tackle problems ranging from putting food on our tables to curing cancer.
In 2007, Sir Tim recognized that the Web's potential to empower people to bring about positive change remained unrealized by billions around the world. Announcing the formation of the World Wide Web Foundation, he once again confirmed his commitment to ensuring an open, free Web accessible and meaningful to all where people can share knowledge, access services, conduct commerce, participate in good governance and communicate in creative ways.
A graduate of Oxford University, Sir Tim teaches at Massachusetts Institute of Technology as a 3Com Founders Professor of Engineering and in a joint appointment in the Department of Electrical Engineering and Computer Science at CSAIL. He is a professor in the Electronics and Computer Science Department at the University of Southampton, UK, Director of the World Wide Web Consortium (W3C), and author of Weaving the Web and many other publications.
Call for speakers
Interested in joining an outstanding lineup of customer breakout speakers? OpenText is looking for customers who are interested in sharing their knowledge, successes and lessons learned with other Enterprise World attendees.
What attendees say
Venue and accommodations
Enterprise World 2019 will take place at Metro Toronto Convention Centre.
Make a reservation at one of our suggested hotels.
Discounted rates are available until June 18, 2019, based on availability.
The 2019 OpenText Elite Awards, it is time to apply!
Showcase your organization's IT excellence and innovation and be recognized among the OpenText™ Elite .
Join the winner's circle

Become part of an elite group recognized for their innovative accomplishments.

Celebrate your success at Enterprise World

Recipients are offered an all-expense paid trip to Enterprise World in Toronto and entry to the prestigious Elite Award ceremony at the event.

Eligibility

OpenText customers are welcome to participate.

Need more information?