The Planning Inspectorate
With a mandate to oversee the planning and development of nationally significant infrastructure projects in the UK, effective management and governance of very complex and involved projects while providing a forum for public debate was a challenge The Planning Inspectorate needed to address quickly. Using OpenText ECM, The Planning Inspectorate put backend structure in place to ensure critical timelines are met, compliance with National Policy Statements (NPS) and using web-based publication of project documents and social media, citizens are actively engaged in the process.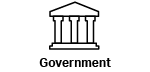 Using a flexible Case Management solution from OpenText, The Planning Inspectorate manage highly complex national infrastructure projects while delivering full transparency and participation for citizens
Challenge
Capture and manage complex information relating to the development of national infrastructure projects
Ensuring employees and citizens had an easy and intuitive way to access, understand, and discuss information
Provide flexible ways to meet critical timelines while improving process efficiency and reducing costs
Ensure compliance with the framework set out in National Policy Statements (NPS) for decision-making on applications
Product(s)
Value
Planning Application Submissions are now managed more effectively, all information is captured in the context of the file, and published on IPC's website within 1 hour of receipt
Improved visibility and a single source of truth on the application has greatly improved customer satisfaction
Simple, flexible configuration enables ongoing adaptation to business needs and continuous improvement on process, with minimal IT support
More effective use of time and resources, elimination of duplication and rework is successfully contributing to cost savings goals
About The Planning Inspectorate
The work of the Planning Inspectorate includes national infrastructure planning under the Planning Act 2008 process as amended by the Localism Act 2011; processing planning and enforcement appeals; holding examinations into local plans and community infrastructure levy charging schedules. The Inspectorate also deals with a wide variety of other planning related casework including listed building consent appeals, advertisement appeals, and reporting on planning applications called in for decision by the Department for Communities and Local Government (DCLG), or, in Wales, The Welsh Government.