Linde Group
The Linde Group Depends on OpenText ECM to Improve Platform Strategy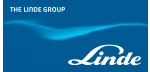 The world leading gas and engineering company increases productivity and saves time.
Challenge
Uncontrolled document volume in the millions, both SAP and non-SAP documents
Complex IT structures due to local and international presence and growth, including growth through acquisitions
Globally applicable process standards are only possible with a platform strategy for ECM
Product(s)
Value
Time savings, increased productivity, and higher process quality through immediate availability of all information, including documents
Platform approach for ECM minimises development, administration, and support required for a large number of solutions
About Linde Group
With a 2010 revenue of EUR 12.9 billion, 49,100 employees, and a market presence in over 100 countries, Linde Group is a world-leading gases and engineering company. The Linde Gases Division is a world leader in the international gases market. The company offers a wide range of compressed and liquefied gases as well as chemicals for a huge variety of industries. The company is also investing in the expansion of its fast-growing healthcare business, i.e., medical gases, and it is a leading global player in the development of environmentally friendly hydrogen technology.