Memorial Health System
Colorado hospitals simplify fax management with OpenText RightFax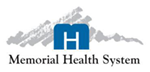 Memorial Health System reduces hardware, applies centralized management for growing enterprise using OpenText RightFax IP document exchange.
Challenge
Isolated single-function machines difficult to manage
New hospitals offered only IP connectivity
Product(s)
Value
Eliminated hundreds of fax machines
Simplified fax delivery and management
Leveraged IP infrastructure for consolidated faxing
About Memorial Health System
Memorial Health System, in Colorado Springs, is a municipally owned Level II Trauma Center with three hospitals, Memorial Hospital Central, Memorial Hospital North and Memorial Hospital for Children. Along with other outlying clinics, Memorial provides a full range of diagnostic, treatment and recovery services in addition to wellness and preventative care. It has nearly 4,000 employees.