Skyworks Solutions, Inc.
Connecting Employees Across Geographic Boundaries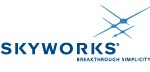 Skyworks Solutions, Inc. deploys Exceed onDemand to enhance enterprise mobility and security
Challenge
Employees in diverse geographical locations requiring access to multiple platforms
Need for multiple desktops for a single user
Securing proprietary intellectual property
Product(s)
Value
Secure access from anywhere in the world to multiple applications
Centralized management of licenses and software support
Maximizing IT hardware and resources
About Skyworks Solutions, Inc.
Skyworks Solutions, Inc. is an innovator of high reliability analog and mixed signal semiconductors. Leveraging core technologies, Skyworks offers diverse standard and custom linear products supporting automotive, broadband, cellular infrastructure, energy management, industrial, medical, military and mobile handset applications.