Office of the Superintendent of Financial Institutions
Office of the Superintendent of Financial Institutions User Story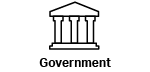 OSFI's case management system makes it easy for case officers and other expert reviewers to find and share case information, ensuring everyone is spending more time focusing on higher-value areas that require their expertise and judgement.
Challenge
OSFI needed to implement a system to streamline, standardize and re-design internal processes and improve the management of information across the organization in response to a government legislation, which specifies that certain types of cases are automatically "deemed approved" if OSFI does not render a decision within 30 days.
Product(s)
Value
OSFI deployed OpenText ECM technology to create a central repository for managing unstructured content, as well as process workflows and collaborative workspaces. In addition, OSFI's Business Systems Integration Initiative (BSII) provides a new level of automation, so that OSFI employees can quickly and efficiently manage regulatory processes, improve risk management supervision and speed responses to key stakeholders.
About Office of the Superintendent of Financial Institutions
The Office of the Superintendent of Financial Institutions (OSFI) is the regulator of federally registered financial institutions operating in Canada.