KiwiRail
KiwiRail Develops Virtualized Fax Environment with OpenText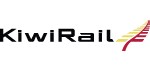 New Zealand transportation organization relies on OpenText Fax Server and Document Server for enhanced productivity
Challenge
Employees previously spent hours manually faxing and archiving paper-based confirmations and scheduling sheets.
Product(s)
Value
Business documents are now delivered and archived within minutes and the organization now has effective integration with enterprise applications. Virtualized Fax over IP environment supports disaster recovery and high availability.
About KiwiRail
KiwiRail is New Zealand's leading freight-forwarding and distribution company, operating rail services over New Zealand's national rail network. It provides linehaul service for the movement of bulk commodities or containerized freight, including dry or temperature-controlled goods and loads for the import or export markets. In 2008, Toll NZ became owned by the New Zealand government and was renamed KiwiRail.