Regions Financial Corporation
Regions Financial Corporation Consolidates Electronic Document Delivery and Management with OpenText Products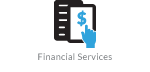 OpenText combines electronic delivery and storage for fast, reliable and scalable enterprise solution
Challenge
Following a merger, the company owned several fax and document storage solutions and wanted to consolidate into a single integrated and scalable solution. Manual processing and lack of integration also caused unnecessary expenses and delays.
Product(s)
Value
The OpenText solution in place now retrieves customer documents in minutes compared to days. Documents are delivered to customers in minutes instead of hours. Fax server performance has been increased by archiving faxes to the Document Server and fax server downtime has been virtually eliminated.
About Regions Financial Corporation
Regions Financial Corporation is a full-service provider of retail and commercial banking, trust, securities brokerage, mortgage and insurance products and services. It is one of the Top 15 US banks with 1,300 offices and 1,600 ATM network locations across the Midwest and South.