Owens Corning
Owens Corning — Furthering paperless processes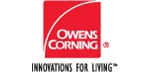 OpenText Means More Efficient Processes, Full Life Cycle Management and Knowledge Management for Projects
Challenge
Owens Corning legacy imaging systems were not properly interfacing with SAP. Mail and fax based invoicing processes were slow and there was an increasing accumulation of paper documents.
Product(s)
Value
Benefits include:
Database performance controlled via data archiving;
direct debit backup and print list storage;
automated workflows;
freed-up system resources;
increased employee productivity and cost savings.
About Owens Corning
Owens Corning is a global leader in manufacturing, building materials and composites systems, with annual sales of $5 billion and an employee headcount of approximately 20,000 worldwide. The organization has manufacturing, sales, and research facilities including joint venture and licensee relationships in more than 30 countries on six continents.