Mott MacDonald Group
OpenText Constructs New Enterprise Content Management Solution for Mott MacDonald Group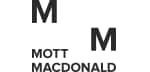 OpenText ECM provides company with a comprehensive information management solution
Challenge
Mott MacDonald wanted to reduce duplication and double handling of electronic files and create a new electronic information and file management system to improve integration between records management, document processing, and content publishing.
Product(s)
Value
Mott MacDonald now has a comprehensive information management solution, delivering a consistent approach to the management of documents and information. It has enabled its project teams to share knowledge more efficiently and communicate more effectively.
About Mott MacDonald Group
The Mott MacDonald Group is a management, engineering, and development consultancy serving the public and private sectors worldwide.