City and County of San Francisco, Human Services Agency
Human Services Agency of San Francisco Streamlines Processes to Improve Public Assistance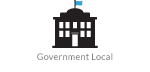 OpenText ECM Provides Workers with Quick and Easy Access to Case Related Information for Enhanced Client Service
Challenge
HSA had a paper-intensive system and inefficient information management. The agency wanted to improve their responsiveness to the public.
Product(s)
Value
HSA now has case folders stored centrally for secure and easy access. Productivity has been improved, they have better information searches, faster processes, and have saved time and costs.
About City and County of San Francisco, Human Services Agency
Human Services Agency (HSA) is a department of the City and County of San Francisco and the central resource for public assistance in the city. HSA serves over 120,000 San Franciscans each year through a range of programs and services. This involves managing more than 120,000 active case folders, each containing anywhere from 50 to 2,000 pieces of paper.