Air Products
Keeping Vital Records of the Past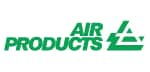 Air Products is using OpenText Document Access for SAP® Solutions to record their successful legacy
Challenge
Air Products needed to improve their archival practices and reduce IT infrastructure costs. The company wanted to facilitate the coexistence of SAP and legacy applications as well as mitigate compliance risks and improve cost-effectiveness of IT staff and resources.
Product(s)
Value
Legal and business compliance risks were reduced and data security was improved. The company has also reduced storage costs and improved efficiencies with permanent staff needing fewer tools and less time to access content.
About Air Products
Air Products and Chemicals, Inc., a Fortune 500 company with a rich legacy that spans over 60 years, is a global provider of atmospheric gases, process and specialty gases, performance materials and chemical intermediates. Their unique portfolio of products, services and solutions serve the healthcare, technology, energy, and industrial industries. With operations in more than 40 countries worldwide, and an employee base of close to 22,000, Air Products has annual revenues of approximately $10 billion.