Make Your Supply Chain More Efficient
How well information flows into and out of your supply chain network can have a significant impact on your business performance. If communication and transactions are hindered, the results can be disastrous – late payments, missed deliveries, unhappy suppliers, and disgruntled customers.
Automating interactions with your trading partners can streamline your supply chain operations while increasing visibility. It means that transactions between you, your suppliers, and your buyers happen electronically and automatically. Whether you're looking to simplify supplier integration and collaboration with procure-to-pay, optimize your inventory levels with logistics track-and-trace, or leverage e-invoicing to reduce errors and contain costs, automation is essential to boosting supply-chain efficiency. And a more efficient supply chain can lead to reduced costs, greater agility, and revenue growth.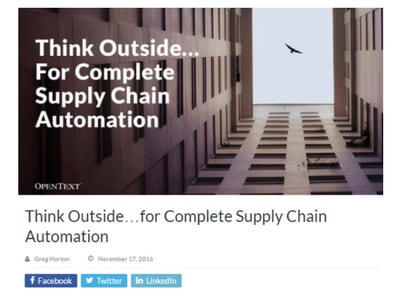 In this webinar, Think Outside ... for Complete Supply Chain Automation, IDG Director of Content Marketing Strategy Rob O'Regan and OpenText™ Director of Product Marketing Greg Horton discuss the advantages of automating supply chain networks. Find out how automation can help you derive more value from your supply chain.