Got Supply Chain Data? Then You've Got Insights
Today's supply chains are more intricate and diverse than ever, containing valuable information about partners, inventories, and costs. When analyzed, this information can deliver the insight needed to build a better future for your organization.
But where to start? Start here, with this easy-to-read For Dummies guide published by Wiley.
Get smart about your supply chain with the For Dummies guide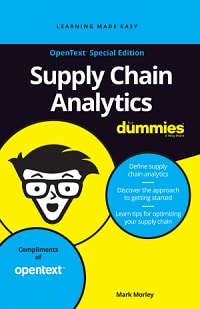 You'll learn:
The basics and benefits of supply chain analytics
Key metrics and KPIs
The 6-stage approach to getting started
10 tips for using analytics
What the future holds
Fill out the form to download this guide and discover how you can transform your digital supply chain. Put your B2B integration data to work and draw valuable insights to better plan for future growth. Boost visibility, improve forecasting, increase flexibility, and decrease risk – with analytics.
See supply chain analytics in action, take the test drive today.