Evaluate Opportunities and Make Faster Decisions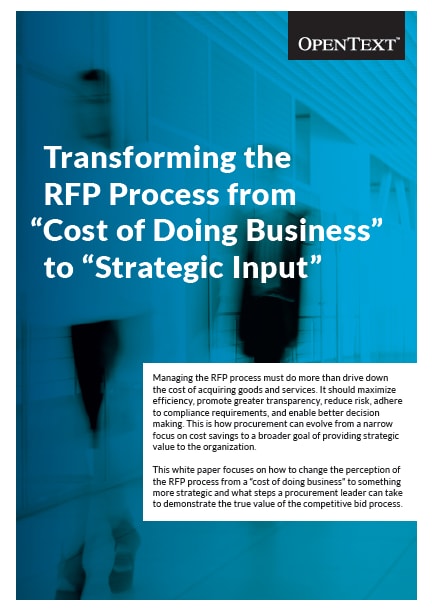 Only 10% of procurement organizations "have captured the respect, understanding, and mindset" of CFOs and other C-suite executives regarding their value, according to consulting firm A.T. Kearney. The RFP process provides an opportunity for procurement to demonstrate that value - but too many organizations aren't thinking about it the right way.
"Managing the RFP process must do more than drive down the cost of acquiring goods and services. It should maximize efficiency, promote greater transparency, reduce risk, adhere to compliance requirements, and enable better decision making," according to the latest white paper from OpenText.
The white paper examines how procurement organizations can evolve from the narrow focus of cost savings to a broader goal of providing strategic value and compliance to the organization.
Read Transforming the RFP Process from "Cost of Doing Business" to "Strategic Input" to learn about:
The value RFP management applications bring as collaborative, auditable and data-driven workflow automation tools
What to look for in an RFP management solution
How one organization achieved 90% ROI with OpenText™ RFx Center
More about Digital Process Automation (DPA):