Remove Complexity from Application Development
When it comes to Business Process Management (BPM), companies constantly strive to manage more processes with less developer interaction. And, while a perfect "programmer-less" product doesn't exist, expectations continue to rise, according to an insight brief from Digital Clarity Group.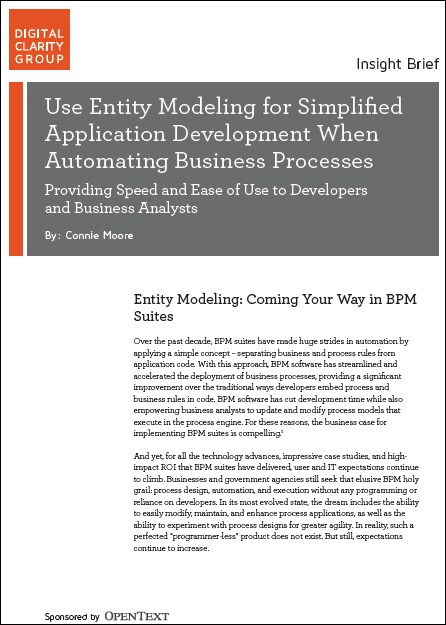 "Businesses and government agencies still seek that elusive BPM holy grail: process design, automation, and execution without any programming or reliance on developers," according to a new insight brief from Digital Clarity Group. These expectations have fueled the interest in low-code software, which opens the door for an important BPM software capability: entity modeling.
Entity modeling is a simplified and enhanced approach to application development. With this approach, developers can reuse components therefore reducing the code requirements for new applications.
Download the Insight Brief, Use Entity Modeling for Simplified Application Development When Automating Business Processes, from Digital Clarity Group and get more detail on 3 key elements of Entity Relationship Modeling.
Don't miss the chance to learn:
More reasons why entity modeling is a significant advance over traditional data and process integration
How to combine entity modeling with process modeling for even greater returns
The value of entity modeling for case management BPM and BPM-powered business applications
You may also like to read:
More about Digital Process Automation (DPA):