"OpenText holds true to its longtime strategy of offering content life-cycle management, discovery, and security services for large enterprises, particularly those with rigorous regulatory compliance requirements."
— Forrester Research, Inc.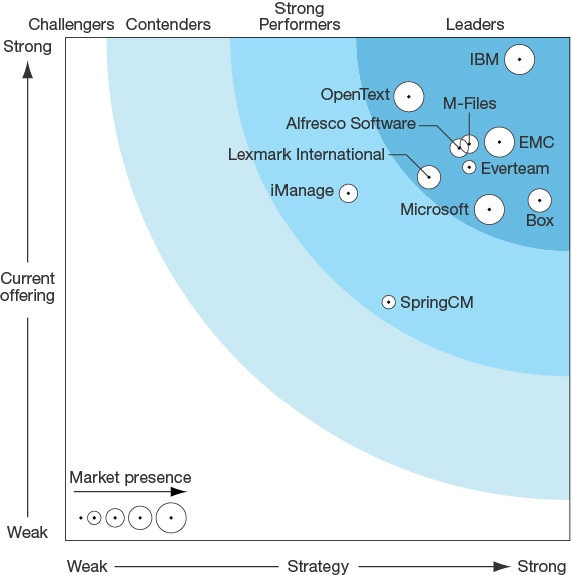 OpenText is proud to have been named a leader in Enterprise Content Management Business Content Services by Forrester Research, Inc. The analyst included OpenText in a shortlist of "perennial leaders," noting the "balanced offerings to meet a broad set of collaborative, compliance-driven use cases."
Read The Forrester Wave™: ECM Business Content Services, Q3 2015 to discover:
How ECM vendors put

the needs of information workers first to succeed

The key capabilities of business content, including flexible user interfaces, secure file sharing, and team collaboration

Why OpenText is listed among "longtime leaders in both the management of business and transactional content"
What Is Business Content?
Business content typically originates inside the enterprise and is usually shared with external stakeholders. It's the documents, spreadsheets, emails, and multimedia content generated in the day-to-day workplace experience. Unlike transactional content, which is highly process oriented, business content is the unstructured lifeblood of knowledge work. It fuels collaboration and inspires innovation.
Business content that's contained in an ECM system provides more than legal and regulatory solace. It also contains a vast amount of intrinsic value for an enterprise. By rethinking how content is managed and utilized, organizations can create infrastructures that prioritize information workers, making it easier to find, utilize, and share content.
A properly designed and optimized ECM system provides a framework to deliver the right content to those who need it. It makes business processes more effective and leads to increased productivity, greater collaboration, and improved agility and innovation across the board.