Inspired by Beautiful Technology
Modern marketers know that customers are at the center of digital transformation. And in the world of information overload, you can't just share information with them—you have to truly engage, entertain, and even delight them with it.
Customers expect videos, pictures, and engagement in real time, and they want connected experiences across all of their platforms, devices, and channels. This demand for rich media has outpaced companies' abilities to manage those assets.
Unlike traditional Digital Asset Management systems, OpenText™ Media Management empowers users to respond to real-time demands from customers, connecting people, processes, and content with an easy-to-use platform.
OpenText Media Management features a completely redesigned user experience that puts content at your fingertips, enabling you to share, collaborate on, and use digital assets anywhere, on any device.
Download the Executive Brief, OpenText Media Management, to learn how OpenText powers your digital media transformation and increases productivity throughout the enterprise.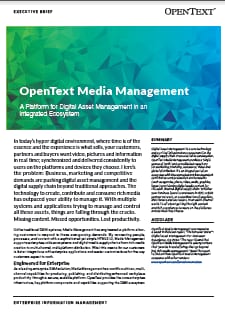 You will learn:
How digital transformation drives the need for Digital Asset Management
How one company reduced search times and costs
Additional benefits that companies like yours can achieve