Magnify the Cost Benefits of Data Center Consolidation
Large organizations create and acquire numerous data centers as a result of natural growth and M&A. Having a local data center at each branch or location is not as efficient or as cost-effective as creating regional data centers. Local data centers have higher power and cooling costs, require more IT resources, and take up valuable real estate. They also increase security concerns by providing additional points of vulnerability.
By making OpenText™ Exceed™ TurboX (ETX) part of your data center consolidation strategy, you can reduce costs while maintaining high performance for applications that are accessed remotely.
Efficient use of application licenses. By maximizing user density on application servers, ETX can save companies hundreds of thousands of dollars – if not more.
Tracking and charge backs. ETX supports an IT-as-a-Service (IaaS) model where services and systems can be cross-charged to individual departments.
Reporting on resource and license usage. ETX provides detailed usage reports to improve capacity planning and ensure license compliance.
Reduced endpoint costs. Maintaining a mixed environment of Mac, Windows, and Linux end-user desktops is expensive and time-consuming. ETX provides a consistent experience across user platforms, so you can focus on delivering a manageable set of virtual environments.
To learn more, download the white paper, Data Center Consolidation: Blessing or Curse?
Read More: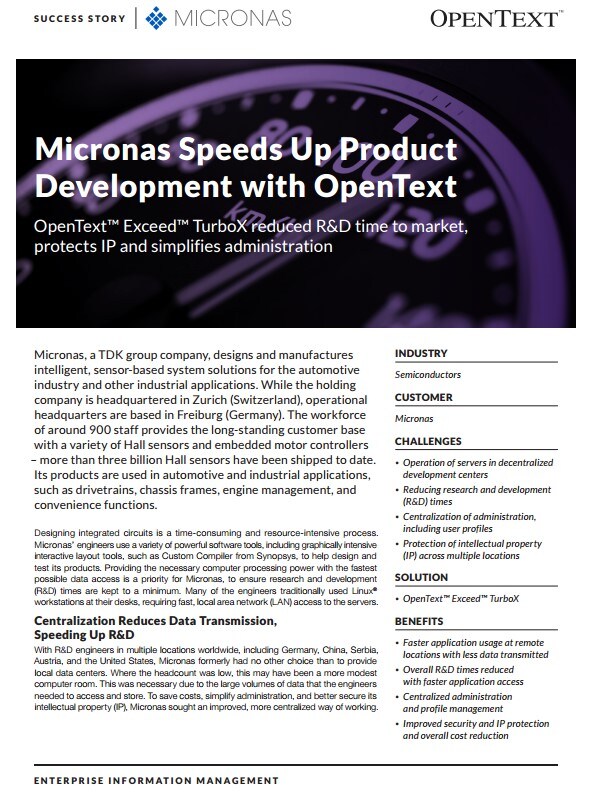 Micronas
"We immediately benefitted from faster execution, with far less data being transmitted over our wide area network."

— Paul Blenderman, Manager, Servers and Infrastructure, Micronas