OpenText Enterprise World 2019 Vienna
Comply with the new Italian electronic invoicing regulations
Electronic invoicing (eInvoicing) has been mandatory in the field of public administration in Italy since March 31, 2015.
As of January 1, 2019, companies in the private sector are required to send electronic invoices via the official Sistema di Interscambio (SdI) exchange system. This applies to all suppliers and service providers registered in Italy and those who send invoices to Italian customers.
What will be considered as eInvoicing becomes mandatory in Italy
eInvoices are generated in an XML format defined by the Italian tax authorities. This standard is called FatturaPA. The invoice then receives a digital signature and is transmitted via the exchange system SdI. The sender receives the invoice status feedback, which is required by law, via the Sistema di Interscambio.
Be on the safe side with OpenText eInvoicing solutions
OpenText™ Active Invoices not only regulates electronic invoice exchange but also abides by compliance requirements for both outgoing (billing) and incoming invoices.
Read our executive brief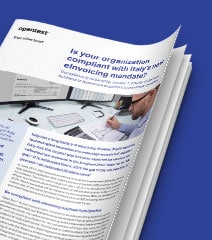 The most important facts at a glance:
The invoice must be created in XML (FatturaPA)
A digital signature is required
The transmission takes place via the Sdl Exchange system
All compliance requirements must be met
Interested? Fill out the form on the right to get more information