Digital transformation in government: Citizen-centric digitalized services
Build the Intelligent Enterprise. Gain expert insights and discover the latest innovations in the Public Sector.
5,000+

Expected attendees

200+

Breakout sessions

90+

Industry experts

80+

Exhibitors
Public Sector at Enterprise World 2018
Toronto, July 10-12, 2018
Government services are moving to a business model that incorporates intuitive interfaces and offers proactive integrated service and timely information. To accomplish this, governments must eliminate information silos to provide transparency across systems, services and stakeholders. By re-engineering business processes, they take advantage of electronic submissions, workflows, digital signatures and the integration of related services, as well as advanced analytics and artificial intelligence.
Register now at the government rate of $995*
Join us at OpenText™ Enterprise World to share strategies, solutions and success stories with other Public Sector leaders.
Top 10 reasons to attend Public Sector sessions:
Collaborating effectively to speed innovation.
Using process harmonization to bring services to the public sooner.
Gaining operational efficiencies to enhance citizen services.
Employing new tactics to improve digital business agility.
Applying integrated analytics to determine trends and ROI.
Reducing costs and increasing efficiency.
Leveraging accurate data to achieve insights into mission-critical activities.
Enabling compliance through digitized services.
Driving highly personalized, omni-channel experiences for partners, citizens and staff.
Encouraging accountability for an improved and transparent government.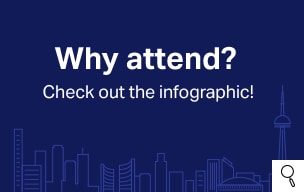 *Promo code required. Contact your regional account manager or email us at enterpriseworld@opentext.com.
Automation could free up to 1.1B US federal government working hours and save $37 billion each year.**
OpenText Public Sector breakout sessions
Public Sector user group
Digital transformation is accelerating to meet mandates for citizen-centric services and automated business processes. This session will introduce the other sessions, which will assist in a successful digital transformation and encourage networking. Additional topics include the introduction of E-GOV Hub and a briefing on the GDPR.
Canadian digital transformation strategies
This panel discussion presents the findings of the Championship Showcase Series, which held three meetings with Canadian government representatives this spring. Join us to learn about the Canadian government's digital transformation strategy and current initiatives.
United States: Digital transformation success stories
Digital transformation at the Federal, State, and Local levels is being accomplished by your peers. Join us to hear about the range of initiatives underway. This session will cover case studies, including the challenges overcome and lessons learned.
Global Public Sector digital transformation strategies
This session will discuss how digital transformation in the governments of Qatar, Singapore and New Zealand illustrate the breadth of what is possible in shared services and integrated, citizen-centric service delivery.
Find more Public Sector breakout sessions
Register now
Explore the biggest topics of 2018
Tracks - Discover the latest trends and insights on:
Customer experience
Magellan & Analytics
Business network & IoT
Content & process management
Keynotes - Get inspired by thought leaders and technology experts
Mark Barrenechea
Muhi Majzoub
Convince your manager with a custom justification letter
Location and venue
Plan your trip
Hotels. Flight discounts. Driving directions.
Book now
Experience Toronto
Food. Attractions. Events. Local transit.
Learn about Toronto
Metro Toronto
Convention Centre
North Building, 255 Front St W
Toronto, Ontario
M5V 2W6
Get directions
About OpenText
OpenText, The Information Company™, enables organizations to gain insight through market leading information management solutions, on-premises or in the cloud. For more information about OpenText (NASDAQ: OTEX, TSX: OTEX), visit opentext.com.
Download the digital world infographic to discover how digital transformation impacts your business and how OpenText EIM helps to lead the way.
**Wall Street Journal, Artificial Intelligence in Government, May 31, 2017.