Influence future product development at the Innovation Lab
OpenText designs products, applications and solutions to provide compelling, productive experiences. The Innovation Lab at Enterprise World 2018 is the test track. This is the opportunity to evaluate innovative new designs and collaborate with OpenText user experience designers and researchers.
To see the products we will be testing this year, or to sign up for a session, please visit https://opentext.fullslate.com/ or use the Conference App.
Meet the engineers at the Developer Lab
This year's Developer Lab offers more sessions than ever before. Join these fun, interactive sessions as our engineers demonstrate how to easily build solutions with OpenText™. You don't have to be a developer to visit the Developer Lab!
The lab provides an opportunity to work with and learn more about OpenText technologies including:
OpenText AppWorks™
Content Server Widgets
InfoArchive
Documentum™ REST Services
Documentum™ CCE
Analytics
Exstream CCM
Stay tuned for further information on sessions!
NEW! Choose from a selection of self-paced, interactive sessions at the Hands-On Lab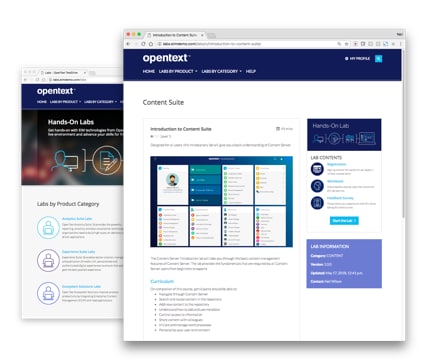 Try out our software at your own pace at the Hands-On Lab.
Join us at the Hands-on Lab at Enterprise World and get your hands on the latest OpenText products, check out the latest product enhancements or walk through a scenario-based demo of one of our extended ECM integrations.
Learn at your own speed in a relaxed atmosphere with no-one looking over your shoulder in sessions designed for users with any skill level and, in some cases, no prior product knowledge. Choose a session, open the workbook and the rest is up to you! Registration information coming soon!
Join the OpenText Elite in the lounge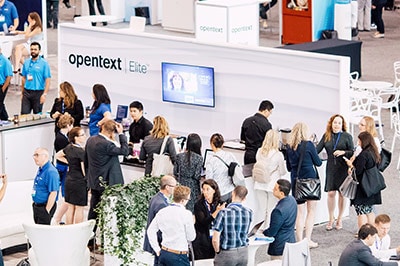 The OpenText Elite™ loyalty program recognizes and rewards our customers and partners who participate in designated activities that support our mutual success. Elite points are given any time you share your story in a reference activity, such as a success story, video testimonial or media interview. To learn more about points by activity type and redemption options, read the OpenText Elite Customer and Partner Brochure.