Meet the challenges of digital disruption
Build the Intelligent Enterprise. Gain expert insights and discover the latest innovations in the Financial Services and Insurance industries.
5,000+

Expected attendees

200+

Breakout sessions

90+

Industry experts

80+

Exhibitors
Financial Services at Enterprise World 2018
Toronto, July 10-12, 2018
Digital transformation is bringing exciting new possibilities to the Financial Services and Insurance industries. Cloud, mobile, IoT and AI provide opportunities to accelerate innovation and redefine the customer experience.
Register now at a rate of $2,095
Join us at OpenText™ Enterprise World 2018 to hear strategies, solutions and success stories from other leaders in Financial Services and Insurance that you can leverage for success within your own organization.
Top 10 reasons to attend Financial Services sessions:
Using digital disruption to strengthen your organization.
Meeting the challenges of digital disruption.
Employing best practices from other OpenText Financial Services.
Implementing artificial intelligence to help your organization.
Leveraging customer experience as a differentiator.
Winning over millennials through digital marketing.
Applying your peers' experiences, challenges and successes to your business.
Using technology to improve business processes and the customer experience.
Improving security and compliance with AI.
Advancing your digital transformation with OpenText.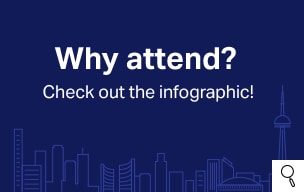 72% of businesses say that improving the customer experience is their top priority*
OpenText Financial Sevices breakout sessions
Financial Services and Insurance user group
This user group breakout session focuses on the Financial Services and Insurance customer community. The discussions will cover the use of OpenText applications, desired application improvements and related topics. Users have the opportunity to provide a five-minute presentation to other users or simply raise a topic for discussion as well as share best practices. Through information sharing and discussion, all users will gain value from other users' experience with OpenText solutions.
Role of artificial intelligence in Financial Services
How can Financial Services and Insurance organizations take advantage of artificial intelligence? Opportunities include reducing costs, eliminating manual processes, improving customer satisfaction and automating compliance. This session will look at best practices and what others in the industry are doing.
Go digital - Customer experience as a differentiator
It is all about the customer—now more than ever. This session will focus on how to reach and satisfy millennials. It will also look at the role analytics, personalization and targeted marketing in an omnichannel environment have on your organization's success
Find more Financial Sevices breakout sessions
Register now
Map your path
Explore the biggest topics of 2018
Tracks - Discover the latest trends and insights on:
Customer experience
Magellan & Analytics
Business network & IoT
Content & process management
Keynotes - Get inspired by thought leaders and technology experts
Mark Barrenechea
Muhi Majzoub
Convince your manager with a custom justification letter
Innovation for digital transformation
Discover how OpenText EIM platforms helps the financial services industry to lead the way.
Learn more

Location and venue
Plan your trip
Hotels. Flight discounts. Driving directions.
Book now
Experience Toronto
Food. Attractions. Events. Local transit.
Learn about Toronto
Metro Toronto
Convention Centre
North Building, 255 Front St W
Toronto, Ontario
M5V 2W6
Get directions