TCO of Moving ECM To The Cloud
Staying competitive and relevant while meeting customer demands requires instant access to information. Moving ECM to the cloud can help address this challenge. It allows content to be accessed, shared, and included in workflows from any location, on any device.
Choosing the ECM solution based on private cloud, public cloud or hybrid implementation will become critical to your operational and financial performance.
Moving ECM into the cloud can provide tangible cost savings, agility and enhanced customer experience. This recently published white paper provides a breakdown of the business and financial benefits of using OpenText Managed Services in the Cloud. The example highlights how an organization deploying Content Suite as a Managed Service in the OpenText Cloud can generate savings.
Read Total Cost of Ownership: Benefits of ECM in the OpenText Cloud to find out how your organization can replicate these savings.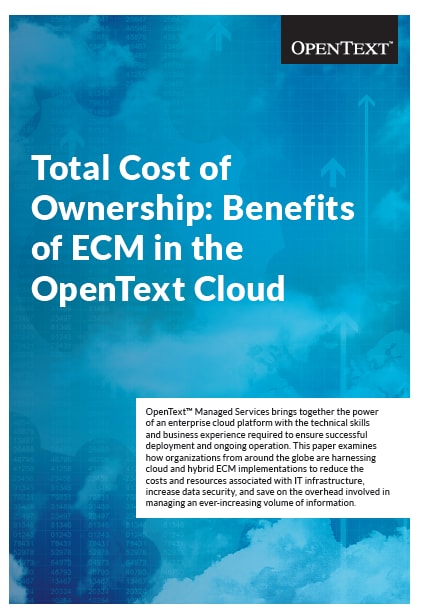 Download the white paper to learn:
Scope and size of the sample organization
Dollar values of the tangible savings and,
Areas of soft intangible savings such as enhanced compliance on governance, risk and security