Gain Economies of Scale with ECM in the Cloud
Spending on cloud solutions is expected to double from $57.8 billion in 2015 to $112.8 billion in 2019, according to a recent International Data Corporation (IDC) Technology Spotlight. Organizations are investing in the cloud to accelerate deployment and create deeper ROI. Shifting the management, security, performance, availability, and disaster recovery of your enterprise solutions to the cloud frees up your IT resources so they can focus on innovation—creating new and improved business solutions.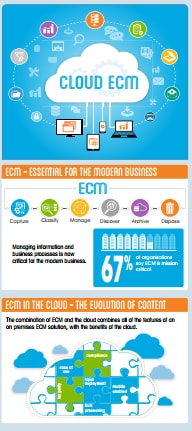 Within cloud investment growth, IDC has seen "strong adoption of cloud-based enterprise applications and productivity solutions"—particularly collaborative applications, such as enterprise content management (ECM), which enable employees to share files externally and access information on the go from mobile devices. Organizations are able to realize economy-of-scale benefits, provide a foundation for software-as-a-service business applications, and improve management and control.
For more information about optimizing the productivity, ROI, and overall user adoption of your ECM solution in the cloud, read the IDC Technology Spotlight, Rethinking ECM for the Cloud.
You'll learn how to:
Benefit from economies of scale
Accelerate the pace of innovation
Overcome perceived barriers
Implement a cloud strategy that provides flexibility around priorities and timetables