Reach New Frontiers
Digital disruption is fundamentally changing the way organizations work and interact with customers, suppliers, and partners. Your supply chain is the engine that runs your business – it, too, must transform. A cloud-based business-to-business (B2B) network is essential for making the most of new, disruptive technologies that can fuel growth and help meet the needs of today's demanding customers and partners.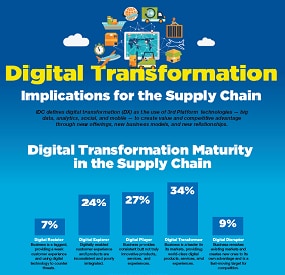 To identify the key benefits of digital transformation for the supply chain, IDC recently conducted a global survey. The research covers:
What are its key drivers and challenges
What are the emerging technologies enabling it
How it will change IT and supply chain operations
How to prepare for it
Download the full IDC white paper, sponsored by OpenText, called Digital Transformation Drives Supply Chain Restructuring Imperative. It offers insights from peers and expert advice on supply chain transformation.
Look to B2B managed services to help your supply chain transform. Not only do these services offer the expert resources to understand and implement new technologies, they can also manage your day-to-day B2B operations so you can focus on strategies to improve the business.