Complimentary Analytics Workshop
Join OpenText™ Analytics at The Ritz-Carlton, Arlington, VA for a complimentary one-day interactive, hands-on analytics workshop that dives deep into enterprise-class tools for designing, deploying, and displaying compelling data visualizations.

During this workshop, you'll gain insights from our technical experts Dan Melcher and Geff Vitale as they share how to build dynamic, interactive, and highly visual information applications. If you are modernizing your business with Big Data and want your entire organization to benefit from compelling data visualizations, interactive reports and dashboards – then this complimentary, hands-on workshop should not be missed!
Featured Speakers:

Dan Melcher
Senior Solution Architect
OpenText Analytics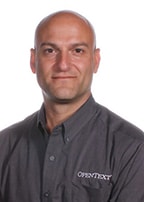 Geff Vitale
Sales Engineer
OpenText Analytics
By the end of the workshop, you will learn how to:
Build interactive, visually rich applications from the ground up.
Create data visualizations and reports using multiple data sources.
Embed data visualizations and reporting into existing apps to create a seamless experience.
Target profitable customers and markets using predictive analytics.
Attendees will receive an afternoon of FREE hands-on learning, and a solid foundation of OpenText Analytics.

Who Should Attend?
IT Directors and Managers, Information Technology Managers, Business Analysts, Product Managers and Architects.
Team members who define, design and deploy applications that use data visualizations, reports, dashboards, and analytics to engage their audience.
Consultants who help clients evaluate and implement the right technology to deliver data visualizations, reports, dashboards and analytics at scale.
Agenda:
8:00 am - 8:30 am
Registration Opens
8:30 am - 10:00 am
Welcome to the Analytics Workshop
Data Visualizations and Embedded Analytics

Presentation and live demos of OpenText Analytics and Big Data Analytics
Learn how to create interactive content with embedded BI and the benefits of using the right tool for your business.

10:00 am - 10:15 am
Break
10:15 am - 11:00 am
Hands-on workshop: Analyze the Customer

This segment of the workshop uses the OpenText Big Data Analytics module to reduce cost, optimize business, and gain efficiency.

11:00 am - 12:00 pm
Hands-on workshop: Drive Engagement with Dashboards

Leverage OpenText Embedded Analytics to quickly create data-driven reports, web pages, and compelling information visuals using a drag-and-drop design.

12:00 pm - 1:00 pm
Lunch Break
1:00 pm - 3:00 pm
Hands-on workshop: Embedding Secure Analytics with iHub

Enable secure analytics in your application today. Whether it's a SaaS or on premise deployment, OpenText Analytics answers the challenge with uncompromising extensibility, scalability, and reliability.

3:00 pm - 3:30 pm
Wrap Up
Sign up now to reserve your spot!