Disruptors are capitalizing on AI … are you?
According to a Forrester survey, 70% of enterprises expect to implement artificial intelligence (AI) over the next 12 months.1
But just what does that usage look like? And how is it helping organizations achieve their digital transformation goals?
Get the answers to these questions and more today. Download the DZone Guide to Artificial Intelligence. You'll learn:
The top ways developers are using AI and predictive analytics
4 obstacles that enterprises must overcome to capitalize on AI
Use cases and case studies that reveal how enterprises like yours are making the most of AI and machine learning technologies
AI, Big Data and IoT privacy challenges and policies that help you conquer them
How AI and machine learning technologies can help you break down data silos and transform data into valuable predictive insights
By 2025, the artificial intelligence market will surpass USD $100 billion.2 Don't get left behind. Join the AI revolution. Get the DZone Guide to Artificial Intelligence now.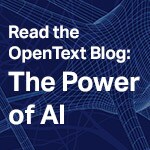 Learn how OpenText™ Magellan combines machine learning with advanced analytics and business intelligence to manage Big Data stored in Enterprise Information Management systems. The result? Faster decision making, automation and business optimization for your enterprise.
Read the full blog article
1 Forrester Research- Predictions 2018: The Honeymoon for AI Is Over
2 Constellation Research, 2015-16.