Leveraging Magellan™ and AI to analyze unstructured data
The Internet of Things, social media and enterprise content all have one thing in common: they generate vast quantities of data — ever-faster. So much so that picking out relevant information and assembling it into meaningful patterns is a tall order.
These new data sources also present another challenge. They generate unstructured data - such as text and emojis - that don't fit neatly into traditional database structures. This data can however hold valuable insights on important and hard-to-quantify concepts such as social sentiment.
How can you identify and extract relevant information from all the data generated and bring out context? How can you use it to gain knowledge and increase value to your customers? Take the example of the 2018 G7 Summit – a forum that addresses global issues and produces international media coverage and social commentary.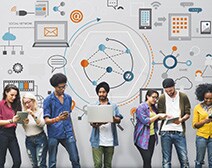 Learn how to analyze any data, especially the treasure trove of text and other Big Content within your enterprise.
Examine typical use cases, including live sentiment analysis on the G7 Summit.
Hear the voice of the people: Showcasing the G7 tracker
OpenText™ Magellan brings machine learning and business intelligence (BI) to the masses by powering My G7, a site that allows visitors to visually monitor, compare and discover interesting facts about the 2018 G7 summit, through thousands of online news articles and tweets collected over several months.
Using market-leading AI (artificial intelligence) text mining techniques, Magellan coalesces all this unstructured data into interactive, user-friendly visualizations that summarize mentions across news agencies, country leaders, summit topics, and tone of the coverage. This way, you can see at a glance what topics are taking center stage at the G7 Summit and how people are reacting to them.
Watch this webinar to gain competitive advantage leveraging the high-value insights that are waiting to be discovered.