Automate HR tasks with case management
Your digital workforce expects to access information anytime, anywhere and on any device. It is no surprise then that employee self-service has become a major competitive advantage for gaining and retaining top talent.
Being a smart Human Resources leader, you've developed effective strategies to retain your talent, but your HR system is holding you back. A prime example of this is with your hiring process: you run numerous email chains for approval from different stakeholders and these manual repetitive tasks not only keep you from working on strategy, but also cause a poor new hire experience.
Optimize with Case Management
The best next generation HR system provides robust case management. It automates repetitive and transactional tasks, and provides a platform to build a much needed employee self-service. The hiring process is simplified and you are able to focus on other critical tasks for greater impact.
Read the comprehensive report, Optimizing HR with Case Management, by advisory firm Deep Analysis. You'll get insights, compelling case studies, and learn how you can radically improve your HR processes.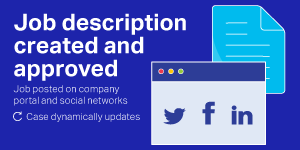 Simplify the hiring process
Learn how case management automates the many manual steps of the hiring process. View the Infographic (PDF)