Enterprise Information Management (EIM) empowers digital enterprises with advanced engagement with employees, customers, partners, and across their entire supply chain. Learn how your efforts can take flight with the Digital: Disrupt or Die series. Subscribe now.
This article series explores the future of digital technologies and their impact on the enterprise. Discover key digital transformation strategies and enrich your knowledge continually.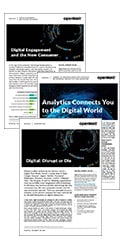 Take advantage of the vast opportunities disruptors offer enterprises
Make the most of 6 global trends shaping digital business
Differentiate your organization with engaging, immediate, and relevant digital experiences that exceed customer expectations
Find the balance between opportunity and risk in your digital governance efforts
Use analytics to bridge your strategy and your results
Meet the challenges of an increasingly complex digital world with the 4 top characteristics of a successful digital supply chain
Prepare your organization today for the digital workplace of tomorrow
Take steps to build a digital enterprise, including implementing an effective EIM platform
Subscribe to the article series today. You'll receive:
Digital: Disrupt or Die
In today's Digital-First World, disruptors like new technologies, digital consumers, a changing workforce, and a global marketplace offer vast opportunities for enterprises.
Digital Business: What Is It?
Learn what a digital business really is—plus the 6 global trends that are shaping it.
Digital Engagement and the New Consumer
Empowered customers demand more from your company. Learn how to deliver digital experiences that exceed customer expectations.
Your Business Network: The Digital Supply Chain
As the digital supply chain becomes more complex, organizations must accommodate shifts in the market, manage disruptive innovations, and satisfy customers to drive competitive advantage.
The Emerging Digital Workplace
Understand the forces changing today's workplace to empower, satisfy, and motivate employees and drive your business forward.
Digital Governance: Finding the Balance between Opportunity and Risk
Digital governance doesn't impede the enterprise's ability to do good business—it enhances it. Learn how to use digital governance to maximize the value of your enterprise information.
Building the Digital Enterprise
Learn how an integrated EIM can deliver better business results, improve customer experiences, and create an open, compliant IT infrastructure.
Analytics Connects You to the Digital World
Whether you are looking to build more tailored customer experiences or harness the power of all your data to beat the competition, analytics is truly the bridge between digital strategy and results.