OpenText Exceed PowerSuite
Connect to any type of application in the enterprise with this family of connectivity solutions.
OpenText™ Exceed™ PowerSuite is a complete connectivity solution for connecting Windows desktops to enterprise hosts. Exceed PowerSuite provides a powerful X Server, VT emulator, IBM mainframe emulator, AS/400 emulator, and Network File System (NFS) client in a single software package.
The OpenText Exceed PowerSuite bundle includes the following products:
OpenText Exceed
OpenText Exceed 3D
OpenText NFS Solo
Together, these products offer Windows users everything they need to connect to any type of legacy system in the enterprise, enabling organizations to consolidate from many different tools to a cost effective and actively supported software bundle.
Exceed is a secure, high-performing X Window server that connects Microsoft Windows desktops to high-end X Window applications running on Unix and Linux servers. Integrated with OpenText HostExplorer and OpenText Secure Shell, Exceed is also the most versatile enterprise connectivity software available.
Exceed 3D enables users to access complex 3D applications running on UNIX, Linux or other X11 desktops from a Microsoft® Windows® PC. It provides support for the OpenGL API—the industry standard three-dimensional visual interface—to ensure that those complex applications are rendered and displayed with the best possible accuracy and performance.
NFS Solo is a Network File System (NFS) client implementation for Microsoft Windows. It allows Windows users to access UNIX file and printer resources using the UNIX-native NFS protocol. NFS Solo offers unparalleled performance, security, and convenience, without modifying mission-critical host systems.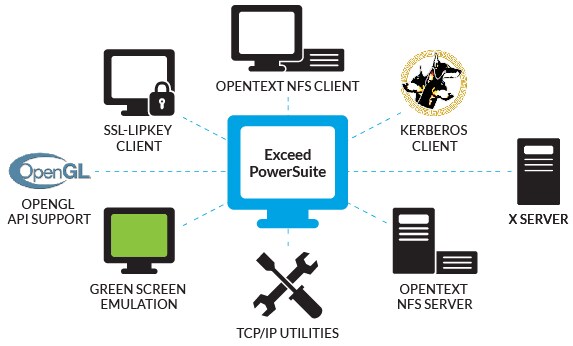 Exceed X Window Server: Connect to UNIX and Linux desktops and applications and run them on your Windows desktop in seamless mode, as if the applications were running on your local machine.
Network File System Client: Supports mounting NFS 2, 3, and 4 file systems from Microsoft Windows desktops, enabling mapping between Windows and NFS permissions
HostExplorer Terminal Emulator: Supports 3270, TN5250, and VT terminal emulationand a secure FTP client
SSL Security: Purchase the OpenText Secure Shell add-on to secure your remote connections to X Window hosts with SSL