Compliance & Corporate Governance
Ensure that your company is managed according to government legislation and regulations, industry standards, and internal policies and procedures
How a company is managed and the measure of its compliance efforts has a direct impact on shareholder value. Poor management and non-compliance can lead to lost business, financial penalties, indefinite suspension of operations, and even criminal charges.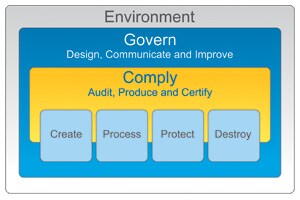 While compliance is quickly becoming a requirement for all organizations-whether public or private, and regardless of in which industry they operate-there is much more to compliance than simply following the rules. Organizations need to not only achieve compliance-they must be able to demonstrate it as well.
Industry regulations and standards are founded on the proven principles and practices of doing good business, best practices that have derived from daily operations in each industry to prevent adversities from being repeated.
Being compliant and promoting good governance is about much more than mitigating risk-it ensures the long-term success and quality of operations throughout your organization.
Our Products
OpenText's Compliance and Governance products are: