OpenText Brava! DocMerge
Easily combine multiple documents into one
OpenText Brava! DocMerge makes it easy to create new files by merging documents interactively. Select pages from multiple files—of any type, including Word or Excel documents, CAD drawings, PDF files and even image formats like JPG and TIFF—and simply drag them to create a new PDF or TIFF. Generate transmittals or document packages by combining files of various content types, or pull out relevant pages from long documents to create smaller files for greater review efficiency. Double-click any thumbnail to inspect that page closer.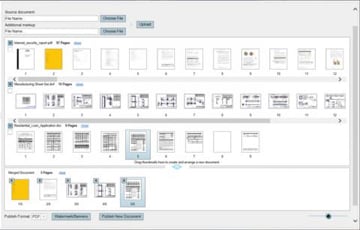 OpenText Brava! DocMerge enables you to:
Combine content from multiple sources into one document: Allows you to include information from different file types (i.e., CAD, PDF, etc.) into single document
Pull selected content from long documents and insert into a new document: Shortens content review cycles by including only pertinent information
Create new files in easy-to-share formats: Reduces user training time and investment in proprietary software
Brava! DocMerge is available as an add-on to OpenText Brava!, including Brava! for OpenText Content Suite and Brava! for IBM, or as a standalone server application.
Easy-to-use, interactive interface
Runs in most web browsers
Merge drawings, image files, and documents into a single PDF or TIFF file
Thumbnail previews
Available as a stand-alone deployment or add-on to Brava!
Create new files in a neutral, easy to share format
Burn in Brava! markups, annotations, stamps, and signatures
Add watermarks and/or banners to the new file