OpenText Communities of Practice
Make the most out of organizational expertise, foster collaboration between cross-functional employees, and ensure that best practices are identified and applied
Many companies today are characterized by isolated knowledge workers, limited understanding of organizational expertise, a lack of accepted best practices, and duplicated efforts. Communities of practice can help connect islands of knowledge and expertise to increase productivity, corporate awareness and innovation.
OpenText Communities of Practice (formerly Livelink ECM - Communities of Practice) unites the cross-functional users that exist in different teams and projects across an organization, leveraging the collaborative power of popular Web 2.0 social networking tools. Employees with similar challenges can reach out to one another, weaving new social networks to share news, ideas and opportunities, establish standards and best practices, and work more effectively with customers and partners.
Communities of Practice captures, protects and preserves all business content in accordance with defined records management policies. It offers the ability to place content from your collaborative community environment under records management controls, providing a best of both worlds environment whereby the ease of use and flexibility of social networking tools are allowed for without sacrificing the security and risk mitigation provided by a strong records management discipline.
Benefits
Promote awareness and collaboration
Identify and leverage high-value individuals
Share best practices
Preserve online memory
Accelerate user adoption
Apply records management controls to content
Quickly set up new communities: Built-in wizards and out-of-the-box templates, including industry and expert community templates, make it quick and easy to set up your community. Wizards also help you to define a three-column newspaper-like front page that welcomes your community members.
Selectively promote content to the community homepage: Administrators can quickly and easily update the layout of the front page using an intuitive and powerful configuration tool, selecting topics, blogs, events, FAQs or other objects in the community to publish to the homepage once or indefinitely as a recurring feature.
Enable prolific community members to share knowledge: Most knowledge workers are passionate about what they do and how they do it. It's what they want to talk about. Advanced journaling components enable members to generate informative Weblogs, or blogs, specific to their communities. Community members can easily subscribe to blogs, and receive notifications when updated.
Discuss relevant issues in the community forums: Provide forums for users to gather and discuss relevant topics, and pose questions to one another.
Harvest high-value forum content to a FAQ object: Particularly useful information or answers to frequent questions posted in the community forums can be saved to a designated FAQ object. This process is a seamless and natural extension of participating in discussion forums. FAQs provide new users with a place to find answers to commonly asked questions and help to alleviate the need for experts to answer the same questions over and over.
Establish a role-based permission structure based on custom roles specific to your community: Because communities use role-based permissions instead of user-based permissions, managing communities is straightforward and requires very little time and effort. You can define the specific roles familiar to your organization so community members do not have to learn the role of a Knowledge Manager or Critic before they can start contributing to the community.
Save content in the community library: Store all community documents, best practices, journals, articles and more in the community library.
Manage and promote upcoming events: An integrated community calendar ensures that community members are aware of upcoming events relevant to the community.
Contact OpenText
Products in Action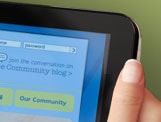 See how organizations are using this product as part of a Customer Experience Management solution...more »
Downloads
Download more information about OpenText Communities of Practice: