Dynamic Case Management
A simpler way to manage complex interactions between people, content, transactions, and workflows.
The next wave of productivity gains will come from empowering digital workers to handle scenarios with dynamic and unpredictable interactions between people, processes and content. OpenText™ Process Suite gives organizations a faster, simpler way to bring consistency and efficiency to these types of processes with a dynamic case management framework that's low-code and information-first.
What Is Dynamic Case Management?
Cases which involve complex interactions between content, people, transactions, and business or regulatory policies, include:
Incident management, for example responding to a complaint or processing an insurance claim
Service requests, for example customer onboarding
Process-through decision, for example underwriting a loan
Dynamic case management is gaining importance as self-service has eliminated many routine tasks from caseworkers and made human-centric processes the ones that uniquely differentiate great customer or employee experiences. In addition, competitive pressures and regulatory requirements are driving the need for efficiency and consistency in unstructured knowledge work.
Dynamic Case Management Software Benefits
Improve case outcomes and time to resolution: Connect caseworkers with the information, knowledge, and people they need to resolve cases
Drive productivity gains: Reduce the effort needed to create, track and manage cases
Meet service level agreements with ease and predictability
Increase customer and user satisfaction: Maintain flexibility to adapt processes to individual circumstances
Accelerate deployments: Empower subject matter experts to take the lead with a low-code application framework
OpenText Brings Both Context and Flexibility to Caseworkers
The less structured the process, the more the specific case's information determines the next best step. In most organization, that information resides in multiple enterprise systems and content repositories. OpenText Process Suite:
Brings all of the relevant information for each case together in one user experience
Orchestrates interactions and workflows between the underlying systems behind the scenes, while maintaining integrity of the systems of record
Allows workers to modify case progression and initiate ad hoc tasks based on the tasks at hand
Seamlessly automates routine tasks with traditional business process management (BPM) capabilities
Moving Beyond Content Management: Decisions Dictate the Process
Since a case may include different documents at different stages, it's critical that the dynamic case management framework integrate with enterprise content repositories and relevant content management functions. OpenText Process Suite integrates with OpenText Content Suite, enabling seamless processes for capturing information as part of a case, managing that information, and formatting it appropriately for outgoing communications. It can also integrate with a variety of third-party content repositories.
Give Power to the People Who Know the Process
OpenText Process Suite employs a low-code application development approach that supports "information-driven design." Business owners who are experts on the process can think about information first, followed by how the process needs to flow. With pre-built building blocks and accelerators, the low-code approach, called entity modeling, simplifies and speeds the creation of case management applications.
Learn More
Read the Executive Brief
Customer Story: Dutch Ministry of Defence
Customer Story: CIZ (Netherlands Ministry of Health)
Contact OpenText
Speed Up Your Application Deployment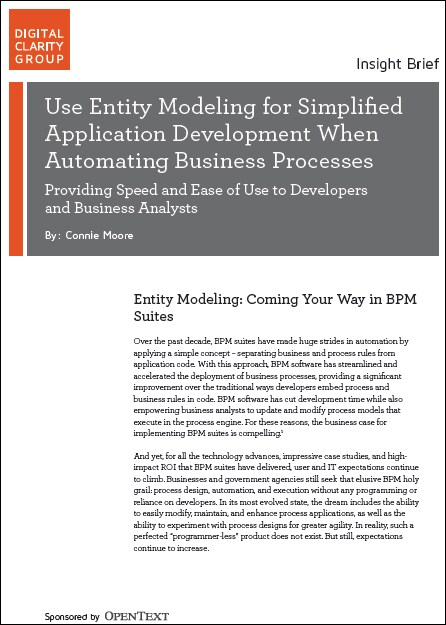 Learn how to use Entity Modeling for simplified application development when automating business processes