Process Suite Platform
One platform, two approaches – Process and Case
Process Suite 16 delivers the power and flexibility to digitize, automate and integrate processes across functions, systems, machines and clouds. These processes can be structured or unstructured, giving you ultimate control to optimize your business' performance and expand its reach. This innovative platform supports tight integration between content and process to connect the right person, system or thing with the content it needs at the right time.
As organizations around the world experience digital disruption and automation of information tasks, they need an integrated platform which will facilitate the process-related flow of information throughout the business in human-to-human, human-to-machine and machine-to-machine interactions and processes.
We call this "information-driven design" – starting with how the information asset needs to be managed and then building the process to manage it. This approach, coupled with a simple way to build process applications, empowers business experts to engage in the creation of the solution they need. The result is faster, more effective solutions.
Process Suite 16 was built to power the digital business with advanced process management and case management capabilities, a simplified and intuitive application development platform, world-class EIM, ERP and CEM integration and robust process-orchestration functionality. Add to this the capability to perform in-depth analytics and reporting to create visibility to process performance and you have THE process management solution for the digital age.
Benefits of OpenText Business Process Management (BPM) Software:
Integrates a single, open platform based on SOA architecture
Supports traditional BPM and Dynamic Case Management in a single platform
Enables true business and IT collaboration through a single workspace
Supports any kind of workflow; human, document or integration-centric
Includes master data lifecycle management and synchronization across multiple source systems
Addresses the challenge of orchestrating services between on-premises and the cloud
Uses a secure, highly available and stable architecture
Delivers collaboration capabilities and Process Intelligence for advanced reporting and analytics
Contact OpenText
Downloads
Learn more about OpenText Process Suite Platform
BPM – User Perceptions & Expectations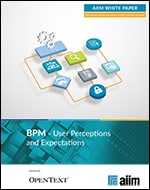 Find out how BPM supports digital transformation