HR & Case Management
A Deep Analysis Industry Report
Whether your current and future employees are digital natives or baby boomers, there is a growing expectation that information should be accessible at anytime, anywhere, and on any device. So, its unsurprising that HR departments are regularly pushed to provide services that are easier to access and easier to use—whether through seamless employee self-service (ESS) or through faster, more proactive HR inquiry resolution.
Read this report to learn how you can radically improve HR activities with easy-to-use and relatively low-cost case management. You'll learn:
Why HR activities are not as digitized as other key areas in the enterprise
The impact of manual processes on employees and potential new hires
How best to achieve the benefits for ESS and HR case management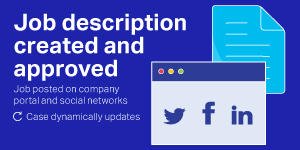 People Center Infographic
Based on Deep Analysis analyst Alan Pelz-Sharpe's research of case management in HR, see how People Center simplifies HR processes like hiring.
View the People Center Infographic (PDF)